fixture_control:slider_menu

Using the sliders in the right side of the FreeStyler gives the possibility to control the DMX values direct.

It also gives the possibility to set some channel related parameters direct by making a "right mouse click" on the wanted fader.

With the right click this menu will appear.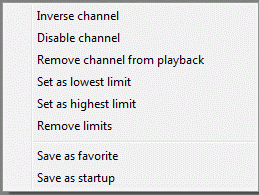 Inverse channel, Disable Channel, Remove channel from playback, Set as lowest limit, Set as highest limit and Remove limits are the same functions as found under the output menu. See Output Menu


When a slider has been inversed or in other way manipulated then the slider will have * * * in front of the slider name and the color of the slider will be different.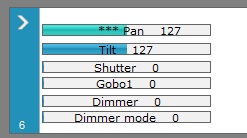 Save as favorite.
This is a way to give a fixture a value that can be recalled again and again. See Favorite toggle

Save as startup.
See Topic not made yet



---