tutorial:complete_stage:sub_master:sub_master
Using SubMaster
Sub Master has 20 sequence selection boxer divided on 4 tabs.
Each selection box correspond to a sequence in the cue panel.

Previously the sequences was grouped in cues.
These cues are here inserted in the selection boxes.

This is done either by click on the folder button or by selecting "Insert cue" in the cog wheel.

This opens the cue selection panel and the cues can the be draged into the wanted selection box.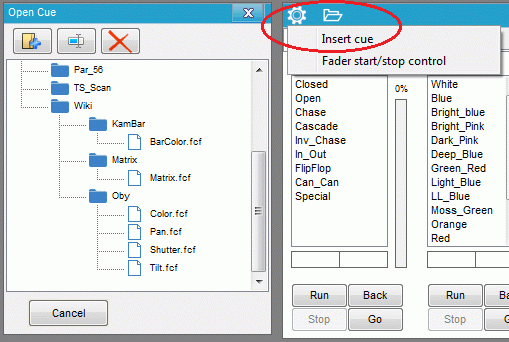 Here the Shutter is placed in the first box then Moving head color and KAM BAR color.
The two color controls are placed next to each other because they most likely are to be operated at the same time.
And then the movement sequences.





On the next tab the matrix is placed as this is most likely a standalone control.





How to operate the Sub master.

Select a sequence example shutter "Open" and press "Run" this load it into the cue panel and running.
As Shutter is the first box then it goes into sequence no 1 in the cue panel. Tilt is box no 5 and goes into sequence no 5 in the cue panel.
Additional the intensity fader next to the selection box are to be adjusted if it is an intensity or RGB / CMY channel that are to be controlled.
For a start adjust all to 100%.

If "Fader Start / Stop Control" is checked "on" then the sequence don't start before the fade is adjusted to another value than 0%.

In general it is just a question of selecting a sequence and press "Run" and the sequence is loaded into the cue panel.

For more information on the Sub master – cue relation and operation see Cue - Sequence relation.

More information on Sub Masters see Using Cues and Submasters and Submaster config




---
tutorial/complete_stage/sub_master/sub_master.txt · Last modified: 2013/03/11 04:06 (external edit)