fixture_control:gobo_panel
Panel Description - Gobo Panel

The gobo wheel panel is simple but it is offend used for a wide range of controls that has nothing to do with gobos.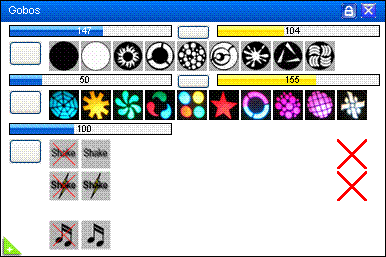 In the gobo panel, 3 gobo wheel controls are available with fader and icons.
Two of the gobo wheels has an additional fader for rotation control.
The Gobo channel and the icons are the same channel. When a icon is pressed then the blue fader will shift to the value for this icon.
The yellow fader is the rotation control. Normally the first half of the fader set the rotation and speed in one direction and the other half of the fader set the rotation and the speed in the other direction.

In this panel gobo wheel 3 is set to function control to show that also function control form time to time are placed in gobo wheel panel.
In some fixtures all gobo wheels controls are used for other control function.
As example this Laser fixture to a Laserworld, RS200G See: laserworld_rs200g-1.pff laserworld_rs200g-2.pff

The two rows of icons in gobo wheel 3 is created by defining 20 icons and fill in blanks.
Note the two red X. The two red X is shown because no icons are attached to these values in the gobo table.

The two nodes for sound off and on are macros will be shown by pressing the white "+" in the green triangle in the lower left corner.
See: Link Macro.
How to configure the Gobo panel can be found under Gobo Configure.


---