setup:setup_external_control
DMX _ in

Please Fill in Text on this Topic




Joystick control
Keyboard shortcuts
With the Keyboard shortcuts it is possible to attach a function in FreeStyler to a certain Key (on your computer keyboard) so when this key is pressed it will then execute the function.
The key / function is set by highlighting the wanted function and then pressing the wanted key.
It is possible to have more functions on the same key.
NOTE: Key setting is case sensitive and only one key stroke. This means that it is not possible to make a "o" + "Ctrl" or "o" + "Alt".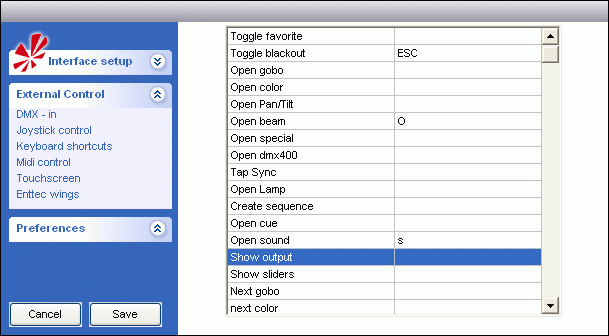 Clear a key from the keyboard shortcuts
1)Clear all Keyboard shortcuts - You can do that if you press the Right mouse button on the shortcuts window and select "Clear all"
2)Clear a Single Key - you can do that by highlighting the Function you would like to clear and press "Backspace"

NOTE: You can not use "Backspace" as a Shortcut.
NOTE: "Spacebar" presses the last button you have selected with the mouse.
This happins with: Fast cuelistbuttons, Release all, disable buttons, tap sync, manual trigger, play/Stop, Run, Stop, back and go.


External control