fixture_creator:channel_description

Fixture Creator - Channel Description
This page shows what the "channel description" tab in the Fixture Creator is for, and how they work.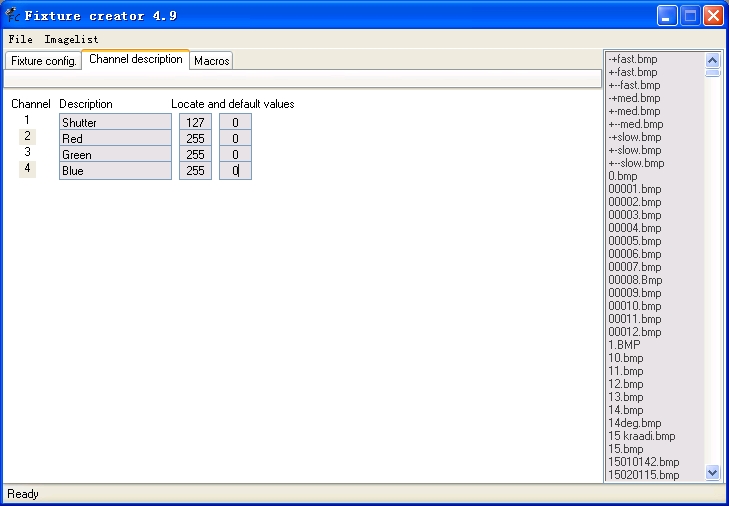 The fixture in this topic is a 4CH PAR Led light. Please see below a DMX Chart:
Channel No.
DMX Value
Description
1
0~127
Master Dimmer
128~255
Strobe
2
0~255
Red Dimmer
3
0~255
Green Dimmer
3
0~255
Blue Dimmer
Locate: in FreeStyler Location screen, right click on one fixture, and click "Locate Selected Fixtures", FreeStyler will send the dmx value that you have put in the "Locate" Column of this page, to the actual light. This is useful when you have a lot of lights set up, and you want to know where the ACTUAL light is located. In the above sreenshot I set the dmx value to get RGB ON, so that when I locate it from FreeStyler the ACTUAL light will be RGB ON, and I know who is who.
Default Value: This column shows what dmx values will be carried by fixtures when they are first added to Freestyler's Location. Normally they are set to "0", as by default we normally want them to be OFF before we start to program a scene.
This page is created based on a reply to my related question by LJ_krede.dk.

fixture_creator/channel_description.txt · Last modified: 2013/03/11 03:45 (external edit)