Announcement
Its been a while (5 years, to be more precise) since I last changed something to the S2L app.
A new S2L v2 app is coming to the surface soon.
You all might know the current Sound 2 Light application that works with FreeStyler:
Version 1: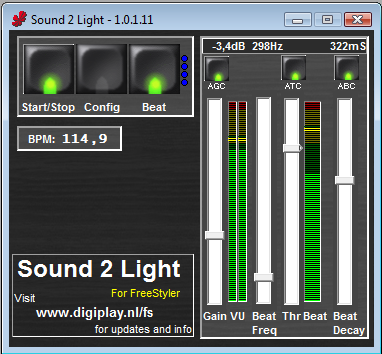 It is getting old. The world moves on. And so should old applications. Especially if they are used by so many users around the world, having newer operating systems with better functions.
I'm currently running tests against the new S2L v2, and when things all look good, I'll start deploying a public beta version.
I'm not gonna tell all changes yet. But here is the biggest change in functionality, since that is requested most frequently:
Audio output loopback support. No need for 'Stereo-mix' or 'What you hear' driver support. S2L v2 supports 'monitoring' the output of every audio device in your system, out of the box. Just select the output you want to get your beat triggers from. (that is, where your audio playout is running). S2L will do the rest. Of course selecting any input device will still work just as good.
I'll be changing my
website
as well post it here whenever I make the beta public.
All I ask you, the users, to have it a go. Play with it. Let it trigger your lights and interest. Test the Audio loopback support. Test all other stuff that have been ported from v1. Even if you don't intent to use it ever. Just do it. I and every future user will thank you for it.
Whenever you find a bug (which should be next to impossible

), please report it to me or better yet:
do a bug report
, containing steps to reproduce, a screenshot (if needed) and whatever you'd expected it to do, and what it didn't.
By doing so, you will help me to bring S2L v2 to a stable release level so that all FreeStyler users can benefit from that, soon.
If you want to keep updated about this beta and/or release, you can use the 'Subscribe to this topic' function of this topic, and you'll get an e-mail notification whenever something new happens here.