tutorial:complete_stage:moving_head_sequences:color_sequences
Color sequences for the moving heads
As in the example with simple sequences here only the colors of the moving heads are controlled. This gives the possibility to have one color sequence running on the KAM BAR and another on the Moving heads.

The disadvantages are that the KAM BAR and the moving heads are not synchrone in color shift.
As the color control is split in 2 cues then a color shift to red will be two step operation first the Moving head and then the KAM BAR.
Or if a color shifting sequence is to run on both set of fixtures then they have to be started synchrone which can be a bit difficult when the start is a 2 step operation.
The color shift for all fixtures could be created in the same sequence and thereby only one sequence is to be started. The color shift will then be a one-step operation and synchrone so if color chases are to be used then all of the shift will be synchrone.

Here the following sequences are created.
One scene sequences.
Blue
Bright_blue
Bright_Pink
Dark_Pink
Deep_Blue
Light_Blue
LL_Blue
Moss_Green
Orange
Red
Rose_Pink
White
Yellow

Two scene sequences.
Green_Red
Red_Blue


All collected in a color Cue.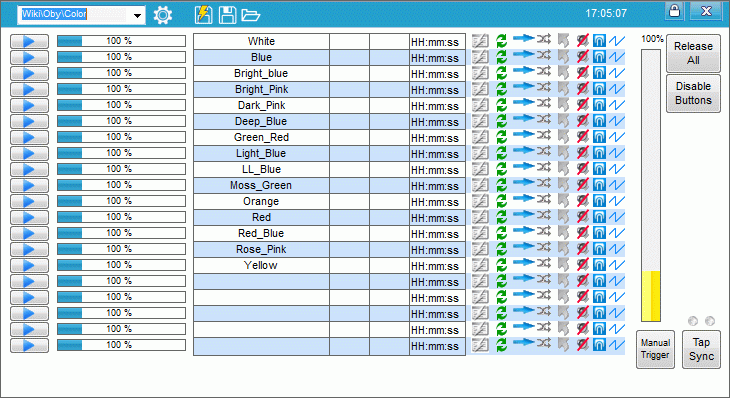 ---
tutorial/complete_stage/moving_head_sequences/color_sequences.txt · Last modified: 2013/03/11 04:05 (external edit)